What are the projected dates for Oshkosh, Wisconsin peak foliage season?
It is expected that the fall color in Oshkosh will be best from mid-late October this year.
Are there areas, vistas, scenic lookouts or other destinations within Oshkosh, Wisconsin that are known for their uniquely beautiful fall foliage displays?
The WIOUWASH Trail
Access at Westwind Road
920-232-1960
The WIOUWASH Trail is a 16-mile crushed limestone trail. Good for hiking, biking, snowshoeing and cross-country skiing. The name is derived from the counties it traverses; WInnebago, OUtagamie, WAupaca, and SHawano.  The trail is canopied by trees that turn magnificent color during the fall season.
Menominee Park, Zoo and Little Oshkosh Playground
Hazel Street and Merritt Avenue
920-236-5080
Oshkosh's largest park, Menominee Park stretches 109-acres along the shore of Lake Winnebago.  A paved trail along the expansive lake is the picture-perfect place to enjoy the fall colors on an autumn bike ride,run or walk.  Athletic fields, picnic areas and a community-built playground add to the list of things to do at this beautiful Park.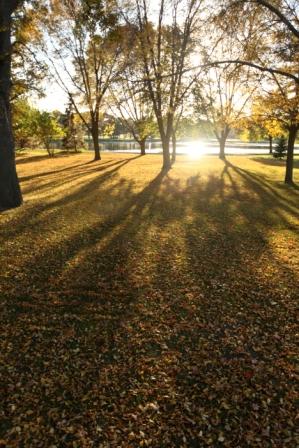 What are the local and regional roads or highways that are favorite scenic routes for fall tourists?
Scenic routes in the Oshkosh area include Highway 45 and County Road A.  Both are a part of the Yellowstone Trail, the first transcontinental automobile highway in the United States through the northern tier of stats from Washington through Massachusetts.  Taking Highway 45 South, enjoy the beauty of the fall season as you drive along Lake Winnebago.  If you want to head North, take County Road A and enjoy a scenic route also on the shores of Lake Winnebago.



What festivals or other public events are taking place during the fall foliage season?
Oshkosh Saturday Farmers Market, 400 and 500 Blocks North Main Street
Shop for locally grown fruit, vegetables and flowers, as well as homemade crafts and delicacies.  Live music and entertainment provide a fun, friendly and pleasant atmosphere.  8:00 AM to 12:30 PM, rain or shine!
Fall Fest on the Fox, UW Oshkosh Campus, 920-424-0344, www.uwosh.edu/fallfest
A part of Fall Fest on the Fox and the Oshkosh Community Dragonboat Race and Festival, the race starts at the Hooper building and ends at the Leach Amphitheater.  Registration fee includes a T-shirt (while supplies last) and refreshments after the race.
Oshkosh Community Dragonboat Race and Festival
Free family festival at the Leach Amphitheater and Riverside Park. Watch 40-foot long canoe-like boats race down the Fox River. Festival includes a 5K/10K run, live reptiles, music, arts and crafts, food and more.
Oshkosh Oktoberfest, href="https://www.oshkoshoktoberfest.com/">www.oshkoshoktoberfest.com
Come and enjoy some great German music, taste authentic German food, watch some incredible German dancers, learn about the unique German culture, shop in thevendor area, participate in various contests including a Sheapshead tournament and a raffle.  Bring your kids for children's activities or just sit and enjoy this beautiful park on the water. Oshkosh Oktoberfest is part of a non-profit organization formed to celebrate German music and culture.
Zooloween Boo, Menominee Park, 920-236-5089
Ghosts, goblins and witches are all welcome to participate in crafts and games.  Zooloween Boo offers children and families an assortment of fun activities and exceptional experiences, including a variety of fall games, trick-or-treat stations, magic shows, inflatables, an assortment of great fall foods, as well as many other fun-filled activities.
Are there historic or cultural sites that are popular destinations for fall foliage travelers? What are they?
Paine Art Center and Gardens
1410 Algoma Blvd.
920-235-6903, www.thepaine.org
Enjoy the beauty of fall at the Gardens of The Paine Art Center and Gardens, a historical estate dating to 1930.  Outdoors, the Paine maintains and enhances numerous display gardens as 'galleries' of horticulture with varied designs and thousands of plant specimens.  Like the mansion's rooms and galleries, the gardens demonstrate careful design decisions about style, view, color, line, shape and texture.  The gardens showcase perennials that are especially hardy in Wisconsin's climate as well as trees, shrubs and wildflowers native to the state.   No matter the season, the Paine's Gardens are a spectacular sight to see.
Inside the Paine, enjoy the preserved architectural structures and beauty in this ornate estate.  Permanent and changing exhibitions make the Paine even more of an attraction.
What are some other popular tourist attractions for autumn travelers to Oshkosh, Wisconsin. What are some of the less well known, but much loved local attractions?
EAA AirVenture Museum
3000 Poberezny Rd.
920-426-6136
www.airventuremuseum.org
The EAA AirVenture Museum is where your imagination "takes flight!"  Located at the site of the world's largest aviation event, EAA AirVenture, the Museum is one of the most extensive aviation attractions in the world, a year-round destination for the entire family.  Come and explore their world-class displays and galleries.  Marvel at the collection of more than 250 historic planes.  Spend time in the five movie theaters.  Take a ride in a vintage airplane at Pioneer Airport.  Witness a piece of history in the Eagle Hangar that is the home to a tribute to World War II aviation.  Interactive activities in the "KidVenture Gallery" make the museum exciting and fun for all ages.
Are there favorite destinations for history, literature, architecture buffs, or antique collectors? What are they?
– There are five National Register Historic Districts in Oshkosh.  A Historic Tours booklet can be obtained through the Oshkosh Convention & Visitors Bureau, 920-303-9200, VisitOshkosh.com.
– Oshkosh Public Museum
1331 Algoma Blvd.
920-236-5799, www.oshkoshmuseum.org
Explore the rich history of Wisconsin's Lake Winnebago Region. Travel back in time with family-friendly exhibits, watch the famous Apostles Clock chime the hour, stroll through the 1908 Sawyer mansion and check out traveling exhibitions.
– Oshkosh Public Library
106 Washington Ave.
920-236-5205, www.oshkoshpubliclibrary.org
Opened in 1900, the Oshkosh Public Library is on the National Register for Historic Districts.  The building, designed by William Waters, is in the Neo-classical style.  It features a raised main floor with broad steps from Washington Avenue to a portico with six Iconic columns.  A 46 foot dome surmounts the interior room.  While expansions and renovations have occurred since its resurrection in 1900, the Oshkosh Public Library maintains historical appeal.  Not only will you enjoy the literature in this Library, you will also be taken aback by the expansive architecture and beauty.
-B.Young's Fine Consign
135 Church Ave.
920-235-6020, www.byoungsfineconsign.vpweb.com
Penthouse treasures at bargain basement prices!  B. Young's Fine Consign is the premier fun and fresh consignment store in the area.  Great supplies of jewelry, furniture, dishes, sculpture, rugs, books, art, florals and more.
What are some favorite destinations or activities of families traveling during the Fall travel season?
The Outlet Shoppes at Oshkosh
3001 S. Washburn St.
920-231-8911, www.theoutletshoppesatoshkosh.com
There's no better time than fall to stop by The Outlet Shoppes at Oshkosh.  Conveniently located off of Highway 41, the Mall is continually growing with new additions like Nike Factory Store, Under Armour, Levi's, Brooks Brothers and more.  With 42 big name, brand stores, you are sure to find something for everyone!
What are some helpful resources for discovering local inns, bed and breakfasts, lodges, boutique hotels, and other local lodging and dining?
For everything Oshkosh, from events, to places to eat, stay and do, check out www.VisitOshkosh.com.  A complete Oshkosh and Winnebago County Visitors Guide can be requested through the website or by calling 877-303-9200.
Is there anything else you would like to tell visitors thinking about traveling Oshkosh, Wisconsin for the fall foliage season?
Oshkosh is Wisconsin's Event City, with more than 1,000 events annually, including a fall full of fun!   Visit our website, www.VisitOshkosh.com for a complete listing of events, attractions, activities and more!
This interview with Oshkosh Convention and Visitors Bureau was provided to us by Brittani Von Ruden