Thanks to Linda Devlin , of  The Allegheny National Forest Vacation Bureau for providing this most helpful information
Foliage.org: What are the projected dates for Kane, Pennsylvania foliage season?
The prime leaf season in this "neck" of the woods is the last two weeks of September and the first two weeks of October. Color typically will last to the end of October, but for the most vivid colors, plan to visit early!
Foliage.org: Are there areas, vistas, scenic lookouts or other destinations within Kane that are known for their uniquely beautiful autumn foliage displays?
Located at the edge of the Allegheny National Forest, scenic Route 6 bisects the small village of Kane. You will discover "Authentic America" along this two-lane meandering roadway, named by National Geographic Traveler as "One of America's most scenic drives."
Nearby, Morrison Trail, a 10.8 mile trail loop within the Allegheny National Forest, provides two unique experiences for either the day hiker or for a two-three day backpacking adventure. Passing through open hardwoods and large rock formations, Rimrock Overlook provides scenic views of the shorelines of the mighty Allegheny Reservoir. The trailhead parking lot is located along PA Route 59, 17 miles west of the City of Bradford.
Foliage.org: What are the local and regional roads or highways that are favorite scenic routes for Fall tourists?
The Longhouse National Scenic Byway offers some of the most breathtaking views imaginable of forests and waterways in the eastern United States. The 29-mile loop-a designated National Forest Byway-circles the Kinzua Creek arm of the Allegheny Reservoir and allows visitors to enjoy the majestic splendor of the Allegheny National Forest along PA Route 59 and PA Route 321 and Allegheny National Forest Road 262.
Enter the Kinzua Bridge Scenic Byway just east of the village of Mt. Jewett from scenic Route 6. Winding through the lush hardwood forests of the Allegheny Plateau, you will pass by a maple syrup farm, State Game Lands and wetlands that offer wildlife and bird watching opportunities. This nine-mile byway, connecting to PA Route 59, is designated a shared use byway for biking and hiking. Traffic counts are low, and the heavy forest canopy arching over the roadway provides spectacular fall foliage touring. Located 3.4 miles from the entrance of the byway is the Kinzua Bridge State Park, home of the world-famous Kinzua Viaduct. The Kinzua Bridge State Park, at an elevation of 2,110 feet provides breathtaking views of the Kinzua Gorge. Hailed as one of the engineering marvels of the 19th century, the Kinzua Viaduct once stood as the highest and longest railroad viaduct in the entire world. Repair work was underway to this historic structure when a tornado struck and toppled 11 of the viaduct's 20 towers.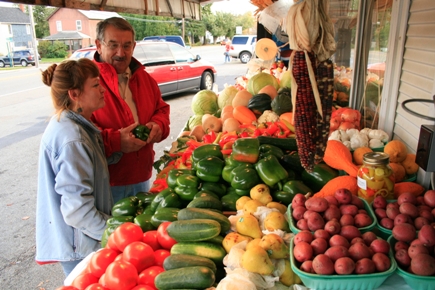 Foliage.org: Are there historic or cultural sites that are popular destinations for Fall foliage travelers? What are they?
The Eldred War World II Museum is dedicated to those who were part of the dramatic war that changed the world forever. Located in Eldred, just 30 minutes from Bradford, this is history you can see, touch and feel. The museum is open Tues-Sunday 10 AM to 4 PM.



Foliage.org: What are some other popular tourist attractions for autumn travelers to Kane .What are some of the less well known, but much loved local attractions?
Flickerwood Wine Cellars and Lounge offers a delightful location to stop, shop, tour and taste award-winning Pennsylvania wines. Their beautiful country gift shop and lounge are open seven days a week.
Artworks at the Depot is an artist-run cooperative gallery/store offering original art  fine crafts, and locally manufactured Holgate Toys-the makers of Mr. Roger's Trolley. Located in the restored 1871 Railroad Depot in Kane the shop is open weekends during fall foliage season.
Nearby in Bradford, the Zippo/Case Visitors Center houses rare Zippo lighters and Case knives and a series of engaging interactive kiosks and exhibits. The museum is open daily and includes an extensive gift shop that offers one-of-a-kind prototype Zippo lighters.
Foliage.org: Are there favorite destinations for history, literature, architecture buffs, or antique collectors? What are they?

The Kane Memorial Chapel was designed to depict the Gothic style architecture General Kane witnessed while in Europe. The chapel features the original pipe organ and stained glass windows installed in 1876. A magnificent bronze statue of General Thomas L. Kane, commemorating him as "A courageous Civil War hero, and friend of the Mormon people," is located outside the chapel.
Nearby, just east along Route 6, the Smethport Mansion District walking tour provides a self-guided tour through a charming village built during the Victorian age by the lumber barons. The Route 6 Diner, located along Main Street, is a favorite stop for a hamburger and a shake.

Foliage.org: What are some favorite destinations or activities of families traveling during the Fall travel season?
Bells Meat Market offers a farm fresh produce stand in Kane and is famous for their wide variety of delicious home-made sausages-the perfect stop for "foodies".
McKean County, Pennsylvania, is Trail Central. Families can enjoy more than 600 miles of trails for hiking, biking, backpacking and over 100 miles for ATV riding. Kayak, scooter and ATV rentals are available from Allegheny Recreation Rentals. For the adventure seekers, Free Fall Oz offers tandem skydiving-a great way to view the fall foliage from above!
Foliage.org: What are some helpful resources for discovering local inns, bed and breakfasts, lodges, boutique hotels, and other local lodging and dining?
A free travel guide and map for the Allegheny National Forest Region, which includes Bradford, Kane, Smethport and other local communities, can be ordered by calling 800-473-9370 or clicking on visitANF.com
For Fall foliage viewing, a free Scenic Driving Tour brochure that features seven suggested tours, attractions, restaurants, lodging and a color-coded driving tour map is available by calling 800-473-9370, or e-mail info@visitANF.com.

Foliage.org: Is there anything else you would like to tell visitors thinking about traveling to Kane for the fall foliage season?
In the Allegheny National Forest the sky is more vast, the mountains higher, the trees a bit taller. The fall foliage peeks early in the upper elevations of the Allegheny Plateau offering a wide spectrum of vivid colors due to the diversity of the hardwood forest. This is an area of winding roads, scenic byways, and low traffic. Travel Savvy Magazine named the Longhouse National Scenic Drive as one of the top six fall foliage drives in the United States. Fall really is bigger here!