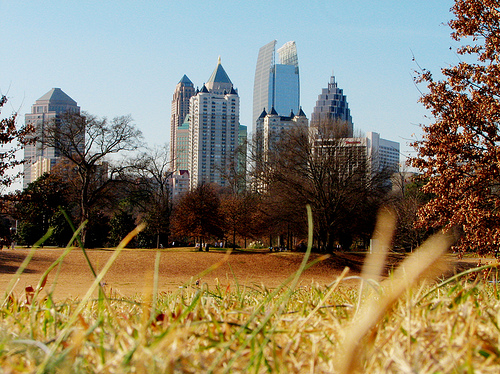 Foliage.org: What are the projected dates for Georgia's foliage season?
Fall leaf season varies throughout the region, but generally falls within the first week of October and the middle of November.
Are there areas, vistas, scenic lookouts or other destinations within Georgia that are known for their uniquely beautiful autumn foliage displays?
Anywhere in the Chattahoochee National Forest provides a splendid view of North Georgia's fall foliage.  The Chattahoochee-Oconee National Forest website (www.fs.fed.us/conf/fall/falcolor.htm) provides reports on the best fall color from week to week, thanks to the help of the U.S. Forest Service officials, as well as leaf spotters throughout the area.  There's also a photo gallery, a Webcam link and contact information for other Georgia regional Forest Service offices.  You can also call the Forest Services national fall color hotline (800-354-4595) for updates
Scenic 197 – www.scenic197.org – Begins in the town of Clarkesville and winds its way north along the Soque River to the north end of Lake Burton.  Visit website to find out all the sites to see along this trail.
Russell-Brasstown Scenic Byway – www.byways.org/explore/byways/13739/  – The Russell-Brasstown Scenic Byway is a nationally designated Scenic Byway that is 40.64 miles in length and makes a loop through the heart of the Chattahoochee National Forest.  It winds its way through the fertile valleys and mountain gaps of the southern Appalachians. From the breathtaking vistas found atop Brasstown Bald (Georgia's tallest mountain) to the cooling mists of the byway's numerous waterfalls, scenic wonders abound in this region of North Georgia. Outdoor enthusiasts can spend days enjoying the area's many recreational opportunities, such as trout fishing in cool mountain streams and hiking along the southern portion of the famous Appalachian Trail. The National Forest setting also provides a protected habitat for hundreds of native plant and animal species.   The Russell-Brasstown Scenic Byway is surrounded by a number of small mountain towns with plenty of places to spend the night, eat a satisfying meal and lots to do.  Blairsville, Young Harris and Hiawassee border the byway on the North, while Cleveland and Helen can be found to the south.  Points of interest along the route include Andrews Cove Recreation Area, just off State Route 17/75 which offers visitors relaxing camping, fishing, and hiking opportunities.  Anna Ruby Falls Scenic Area features twin waterfalls, Curtis Creek dropping over 150 feet and York Creek falling 50 feet cascading down to form Smith Creek.  Other waterfalls include High Shoals, Raven Cliff and Dukes Creek falls.  There are several routes along this byway.
From Atlanta: Take I-85 north to I-985, then take I-985 north to SR 384. Go north on SR 384 until you reach SR 75, and head north along SR 75 through Helen. The byway begins at a junction with SR 75 Alternate.
From Gainesville: Take SR 11/US 129 north from Gainesville to SR 75 in Cleveland. Then travel north on SR 75 through Helen. The byway begins at a junction with SR 75 Alternate.
From Toccoa: Take SR 17 west from Toccoa to a junction with SR 75 near Helen. Then take SR 17/75 north through Helen. The byway begins at a junction with SR 75 Alternate.
From Dahlonega: Take U.S. 19 north to a junction with SR 180 at the right. Then take SR 180 east to SR 348. The byway begins at a junction of SR 180 and SR 348.
From Clayton: Take U.S. 76 west to SR 17/75. Then take SR 17/75 south to a junction with SR 180. The byway begins at a junction of SR 17/75 and SR 180.
From Hiawassee: Take SR 17/75 south to a junction with SR 180. The byway begins at a junction of SR 17/75 and SR 180.
Southern Highroads Trail – www.southernhighroads.org – The Southern Highroads Trail can be traveled in its entirety or in sections.  This very scenic route travels through four national forests (Chattahoochee, Nantahala, Cherokee, and Sumter) and four states (North Carolina, South Carolina, Tennessee and Georgia).  The mountain towns are full of interesting places to visit and plenty of great places to eat and spend the night.  White water rafting companies on both the "Wild & Scenic" Chattooga River and the Ocoee River (site of the 1996 Whitewater Olympic events) offer trips for adventurers of all ages.  Horseback riding, llama treks, golf, mountain biking, fly fishing, and other recreational pursuits too numerous to mention can be enjoyed year round, but the fall provides a particular enjoyable scenic experience.  State Parks are dotted all along the route as are those multi-faceted liquid jewels known as waterfalls.  One site that should not be missed is Tallulah Gorge State Park which has fall scenic water releases into the 1000 foot deep gorge.  Visitors can hike down into the gorge and look out over the floor of the gorge from the popular suspension bridge!
Appalachian Foothills Parkway – www.appalachianfoothillsparkway.org – North Georgia's Appalachian Foothills Parkway is a scenic east-west / west-east route across the ridges and valleys of the southern Blue Ridge Mountains. Our Appalachian culture is articulated through the stories, people, art, craft, culture, artifacts, historic sites and the natural beauty throughout the region. There are many sites that share the heritage and the culture of this region of Appalachia. The following list of Signature Sites is so designated because they stand out in their ability to tell the story of Georgia's Appalachia.
U.S. 441 Heritage Highway – www.441heritagehighway.org – The northeast Georgia portion of this route travels through Rabun, Habersham, Banks & Jackson Counties giving travelers an excellent array of views from Georgia's Mountains to its foothills.
Other routes:

Take U.S. Highway 129 from Cleveland to Blairsville
Across U.S. 76 from Rabun County to Fannin County
From Dahlonega on GA 60 north to Morganton
Lake Rabun Road from U.S. 441 to GA 197
GA 180 from Suches to U.S. 129
U.S. 19 north from Dahlonega to U.S. 129
GA 356 from GA 75 to GA 197
The Appalachian National Scenic Trail stretches over 2,144 miles from Georgia to Maine.  With over 74 miles of the southern route in North Georgia, the Appalachian Trail offers the ultimate in hiking opportunities.  Brasstown Bald rises 4,784 feet above sea level and is Georgia's tallest mountain. Visitors to this place on high find an observation deck which allows a spectacular 360-degree view of the Blue Ridge Mountains, exhibits, a film, hiking trails, and gift shop.  Unicoi and Vogel State Parks offer a variety of lodging, dining and recreational opportunities.  Families particularly enjoy the Smithgall Woods – Dukes Creek Conservation Area.
What festivals or other public events are taking place during the 2009 Fall foliage season?
Oktoberfest, Helen GA
Gold Rush Days, Dahlonega, GA
Currahee Military Weekend, Toccoa, GA
Big Red Apple Festival, Cornelia, GA
Turning & Burning Festival, Gillsville
Georgia Mountain Fall Festival, Hiawassee, GA
Sorghum Festival, Blairsville, GA
Batesville Days, Clarkesville, GA
Moonshine Festival, Dawsonville, GA
Hemlockfest, Murrayville, GA
Toccoa Harvestfest, Toccoa, GA
Are there historic or cultural sites that are popular destinations for Fall foliage travelers? What are they
Foxfire Museum www.foxfire.org
Covered Bridges
Poole's Mill Covered Bridge

(Forsyth County) – Built by Dr. Marcus L. Poole ~ date unknown. This bridge is 94.6 feet long and 14.5 feet wide.  It is of the town lattice design and crossed Settledown Creek.  Also known as Pool's Mill.  Take GA 20 seven miles west of Cumming to Ducktown, then three miles north to Heardville, bridge is one mile north on Poole's Mill Road.

Watson Mill Bridge

(Madison & Oglethorpe Counties) – The state's longest covered bridge, it was built in 1885 by Washington W. King in the town lattice design.  It is 3 spans and 228.6 feet long.  It crosses the south fork of the Broad River.  Take GA 22 south of Comer for 2 miles, follow signs to Watson Mill Bridge State Park.

Cromer's Mill Covered Bridge

(Franklin County) – Built in 1906 by J.M. Pink Hunt.  This 75-foot bridge crosses over Nails Creek.  It is 132 feet in length and the truss is of the town lattice design.  Take GA 106 about eight miles south of Carnesville, turn east onto county road a half-mile north of Gordon Church.

Lula Covered Bridge

(Banks County) – Built in 1915 over Grove Creek, this small bridge is 34 feet long.  The truss is of the kingpost (king-rod) design.  It is also known as the Blind Susie Bridge and the Huder Bridge. Take GA 98 north of Maysville 2½ miles, turn onto gravel road at Antioch Church and go one mile to bridge.

Stovall Mill Bridge

(White County) – Also known as Helen Bridge, Nacoochee Bridge, Chickamauga Bridge and Sautee Bridge.  It is Georgia's smallest covered bridge at 36.8 feet long and 11 feet 10 inches wide.  It was built in 1895 by Will Pardue and is of the queen-post design.  It crosses Chickamauga Creek.  Take GA 75 north of Cleveland for 7 miles, turn right onto GA 17 for about two miles, then left onto GA 255 for two miles.
What are some other popular tourist attractions for autumn travelers to Georgia. What are some of the less well known, but much loved local attractions?



The 14 Georgia State Parks, Recreation Areas & Conservations Areasoffer a wide variety of amenities and activities, including hiking and nature trails, go to www.GeorgisStateParks.org:

Amicalola Falls – Beautiful Waterfalls and reflection pool, lodge, Len Foote Hike Inn and approach trail to Appalachian Trail
Blackrock Mountain – Georgia's highest state park, beautiful views
Bobby Brown – Boating and fishing on Lake Thurmond/Clarks Hill Lake
Fort Yargo – Great location near Athens & Atlanta, with hiking and biking trails surrounding beautiful lake
Hart – Boating and fishing on Lake Hartwell
Moccasin Creek – Surrounded by mountains with fishing on the shores of Lake Burton
Richard B Russell – Beautiful views of Lake Russell and Georgia Foothills
Smithgall Woods – Interpretive center, hiking trails, trout fishing
Tallulah Falls – Interpretive Center, views of Tallulah Gorge, hiking down into the gorge
Tugaloo – Mountain view from Lake Hartwell
Unicoi- Adjacent to Anna Ruby Falls, Unicoi Lake and great hiking trails
Victoria Bryant – Beautiful creekside camping and hiking trails
Vogel – Beautiful lake in the heart of the mountains
Watson Mill – Gorgeous shoals in the Georgia foothills

Brasstown Bald www.fs.fed.us/conf
Are there favorite destinations for history, literature, architecture buffs, or antique collectors? What are they?
The Town of Dahonega www.dahlonega.org
The Town of Helen www.helenga.org
Sautee-Nacoochee Center www.snca.org
What are some favorite destinations or activities of families traveling during the Fall travel season?
The Smith House, Dahlonega www.thesmithhouse.com
The Dillard House, Dilllard www.dillardhouse.com
Mountain Crossings at Walasi – Yi www.mountaincrossings.com
Brasstown Valley Resort – www.brasstownvalley.com
Unicoi State Park – www.GeorgiaStateParks.org/unicoi
Amicalola Falls State Park – www.GeorgiaStateParks.org/amicalola
Len Foote Hike Inn – www.hike-inn.com
Corn Mazes & Pumpkin Patches

 Maize Quest at Jaemor Farm Market 5340 Cornelia Hwy, Alto, GA 30510 770-869-3999 www.cornmaze.com/mq_location.asp?ID=55
Choestoe Valley Produce Corn Maze & Pumpkin headquarters Hwy 129 S/Nottely Bridge, Blairsville GA 30512 706-835-7568
Southern Tree Plantation 2531 Owltown Road, Blairsville, GA 30512-6402 706-745-0601 www.southerntreeplantation.com
Clarkesville Corn Maze 1850 Hardman Road, Clarkesville, GA 30523 706-878-8404 www.helenentertainment.com/corn_maze
North Georgia Corn Maze 559 Tom Bell Road, Cleveland, GA  30528 800-959-1874 www.northgeorgiacornmaze.com
Hillbilly Cornmaze 274 Radio Road, Dahlonega, Georgia 30533 706-867-0940 www.hillbillycornmaze.com
Burt's Farm 4801 Georgia Highway, Dawsonville, GA 30534 706-265-3701or 800-600-BURT www.burtsfarm.com
Bradley's Pumpkin Patch 55 Lawrence Dr, Dawsonville, GA 30534-1620 706-265-1447/770-380-3636 www.bradleyspumpkinpatch.com
Uncle Shuck's Corn Maze Highway 53 E Dawsonville, Dawsonville, GA 30534 770-772-6223/888-OSHUCKS www.uncleshucks.com
Buck's Corn Maze 1923 New Hope Rd, Dawsonville GA 30534 706-344-8834 www.buckscornmaze.com
Hillside Orchard Farms Corn Maze 18 Sorghum Mill Dr, Lakemont, GA 30552 706-782-2776 www.hillsideorchard.com
What are some helpful resources for discovering local inns, bed and breakfasts, lodges, boutique hotels, and other local lodging and dining?
www.ExploreGeorgia.org
www.GeorgiaMountain.org
Is there anything else you would like to tell visitors thinking about traveling to Georgia for the fall foliage season?
For a change of pace, try a pontoon boat ride, canoe or kayak trip, or a skippered boat ride on one of North Georgia's many lakes…Chatuge, Nottely, Burton, Hartwell, Lanier,  Richard B Russell, Rabun, Tugalo, Tallullah, Seed, Yonah.  It's a peaceful, quiet and reflective time to enjoy the cool mountain air, the warm autumn sunshine and the spectacular change of Mother Nature's wardrobe.
Stefanie Paupeck from Georgia.org was a great help, providing us with two interviews on Georgia foliage!
Photo Credit: jon gos