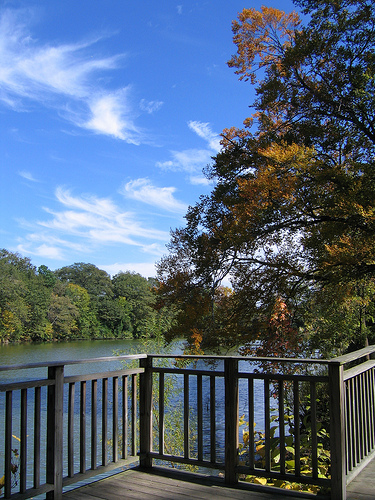 Foliage.org: What are the projected dates for Georgia's peak foliage season?
Typically, fall color starts showing in northern Georgia around early-mid October, peaking in late October or even early November. It's a little too early to predict how vibrant the forest will be this year. Georgia State Park's Annual Leaf Watch is a great way to keep up with the changing leaves in Georgia.
Are there areas, vistas, scenic lookouts or other destinations within Georgia that are known for their uniquely beautiful autumn foliage displays?
 Lookout Mountain Parkway is a good drive for fall color.
There is a great pull over just south of Covenant College where the hang gliders jump off.  It's fun to watch them and take in the color, valley and distant mountain ranges to the west.
Other places in Nothwest GA for fall color:
Blue Ridge
Ellijay
Jasper/Big Canoe area



What are the local and regional roads or highways that are favorite scenic routes for Fall tourists?

Lookout Mountain Parkway
Georgia Mountain Parkway
Southern Highroads
Appalachian Foothills Parkway
Cohutta-Chattahoochee Scenic Byway
Ridge and Valley Scenic Byway
Lookout Mountain Valley Trail



What festivals or other public events are taking place during the Fall foliage season?
Cowboys & Indians Days, Cartersville
Great Locomotive Chase Festival, Adairsville
Sum-Nelly Arts & Crafts Festival, Summerville
Georgia Marble Festival, Jasper
Grandpa Jones Corn Maze and Pumpkins
Heritage Holidays, Rome
Praters Mill Country Fair, Dalton/Varnell/li>
Etowah Valley Indian Festival, Cartersville
New Salem Mountain Festival, Trenton
Bremen Towne Festival
Georgia Apple Festival, Ellijay
Southeastern Cowboy Symposium at Booth Western Art Museum, Cartersville
Cherokee Picnic, Canton
An Evening at Oak Hill Cemetery, Cartersville
Are there historic or cultural sites that are popular destinations for Fall foliage travelers? What are they?

Dalton, Ga – Praters Mill – the 1855 grist mill is in full operation during the country fair in October.
Jasper, Ga – Marble mine tours are available during the Georgia Marble Festival
Chickamauga National Military Park is colorful in the fall, and especially nice to visit on a clear sunny fall day.
Historic Banning Mills is in a gorge setting, colorful in fall, has historical interpretation and is great for a weekend getaway, romantic or adventure.
What are some other popular tourist attractions for autumn travelers to Georgia. What are some of the less well known, but much loved local attractions?
Georgia State Parks are popular tourist destinations for autumn travelers.
Cloudland Canyon has a hike down to two waterfalls.  A new overlook is currently being built for another look into the gorge.
Fort Mountain State Park has great hikes, a tower to climb and look out over the valley.
Cohutta Spring Conference Center is also a getaway for anyone wanting to vacation in a mountain setting.  There is a lake for canoeing or rowing and the Cohutta Springs Winery is nearby.
Wild Moon Ranch and Resort is a hidden luxury getaway in NW Georgia. It is located in Rising Fawn on Lookout Mountain.
Canyon Ridge Club on Lookout Mountain has a getaway package.
Are there favorite destinations for history, literature, architecture buffs, or antique collectors? What are they?

Chickamauga – both the city and the National Military Park
Jasper, Ellijay, Blue Ridge and McCaysville are popular for their downtown shopping areas
What are some favorite destinations or activities of families traveling during the Fall travel season?
Blue Ridge Scenic Railway is a family favorite train ridge
A Canopy Tour
Picking apples and pumpkins in Ellijay or Blue Ridge.  Mercier Orchard in Blue Ridge, Panorama Orchard, Hillcrest Orchard and R and A Orchards in Ellijay; more apple orchards along Apple Alley (GA Hwy 52 east of Ellijay).
Museum favorites might include Tellus Northwest Georgia Science Museum, Booth Western Art Museum,  Tunnel Hill Heritage Center, Chickamauga National Military Park, and  Funk Heritage Center
What are some helpful resources for discovering local inns, bed and breakfasts, lodges, boutique hotels, and other local lodging and dining?
The best place to find local lodging and dining information is the local Convention and Visitors Bureau or Chamber of Commerce. 

Is there anything else you would like to tell visitors thinking about traveling to Georgia for the fall foliage season?
Georgia's color is as pretty as you'll find anywhere!
Special thanks to Stefanie Paupeck from Georgia.org  for this in-depth response on planning a Northwest Georgia fall foliage trip.
Photo Credit: By Jason Riedy