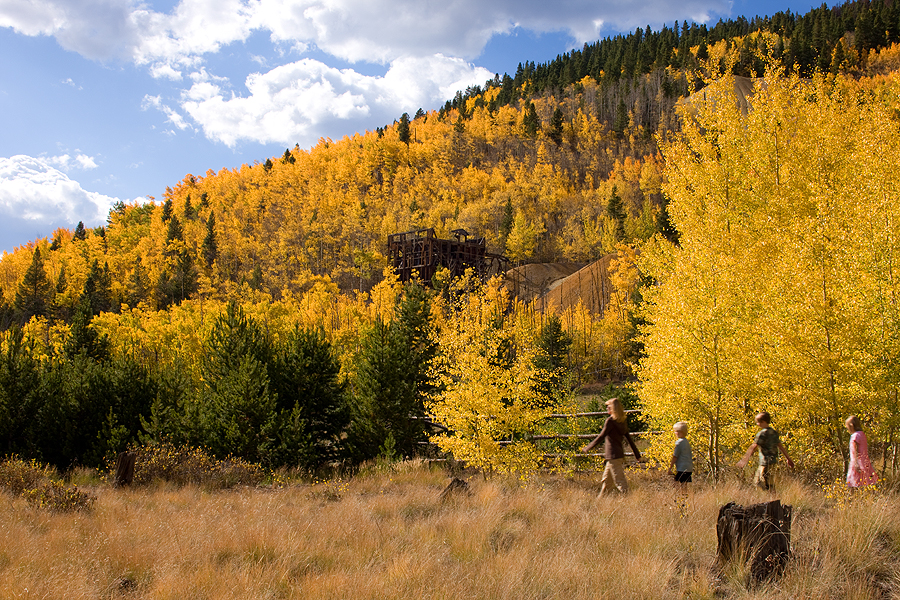 Foliage.org: What are the projected dates for Breckenridge, Colorado  2011 peak foliage season?
Breckenridge, Colorado's peak foliage season typically runs from early to mid-September.
Are there areas, vistas, scenic lookouts or other destinations within Breckenridge that are known for their uniquely beautiful autumn foliage displays?
Boreas Pass Road ascends from downtown Breckenridge, Colo. to over 11,400 feet. It's a popular fall route that offers numerous views looking down on the town and surrounding mountains. Trails parallel the upper dirt portion of Boreas, where golden aspens are plentiful in autumn. Travel by car, bike, horseback or foot.
What are the local and regional roads or highways that are favorite scenic routes for Fall tourists?
In addition to Boreas Pass Road, travelers frequent Colorado state highway 9 south from Breckenridge over Hoosier Pass to see the changing leaves. At the top, visitors will discover fall colors north toward Breckenridge and looking south across the Park County valley. Those seeking a longer scenic drive (be sure to fill up on gas!) can make a loop by continuing south from the top of Hoosier, turning left (north) on U.S. highway 285 and making another left onto Boreas Pass Road / County Road 33. The dirt road continues over Boreas Pass and drops into downtown Breckenridge, with many open views and brilliant fall colors along the way.



What festivals or other public events are taking place during the 2011 Fall foliage season?
Breckenridge Oktoberfest typically falls on the second or third weekend in September, near the peak of leaf-viewing season in Breckenridge. The free Oktoberfest celebration brings Bavarian food, German brews, lederhosen and oompah music to Breckenridge's Main Street. Visit www.BreckenridgeOktoberfest.com for details on this year's celebration.
Are there historic or cultural sites that are popular destinations for Fall foliage travelers? What are they?
Boreas Pass Road once served as a section of the Denver South Park & Pacific narrow gauge railway from Denver to Leadville. The Boreas Pass Section House and Wagon Cabin sit at the top and were used to house the families who took care of this section of railway. Listed on the National Register of Historic Places, the buildings are used as an interpretive museum in summer and a back-country ski hut in winter.
Rotary Snowplow Park sits at the bottom of Boreas Pass Road in Breckenridge. In the years before snowplows as we know them, there were rotary snowplows. These huge machines had giant, snow-blowing blades which cleared narrow gauge railroad tracks. The blades threw snow 30 feet away on either side of the tracks. Four to six steam-driven locomotives were needed to push these behemoths up Boreas Pass on the way to Breckenridge. Visitors to the Rotary Snowplow Park can see one of these machines on display and learn about transportation and the railroad in early-day Breckenridge.

What are some other popular tourist attractions for autumn travelers to Breckenridge. What are some of the less well known, but much loved local attractions?
Breckenridge is a hub of adventure; travelers can kick it up or kick back any time of year. In-town visitors can stop by the Welcome Center for information on everything Breckenridge has to offer. Check out these ideas in fall:
Hiking and Biking Trails: The Town of Breckenridge manages an extensive trails system with varying terrain. Trails pass through scenic areas, lead to historic landmarks, connect with neighborhoods and provide alternatives to automobile transportation.
 Arts District: The Breckenridge Arts District offers a variety of workshops that provide creative outlets for children, teens and adults. Kids can play with clay, teens can try their hand at tie dyeing and adults can refine skills or work with a new medium.
 Breckenridge Golf Club: The world's only 27-hole, Jack Nicklaus-designed municipal golf course was rated by Colorado Golfer as the Best Mountain Course in Colorado. Settled below the stunning Tenmile Range, the courses offer streams, beaver ponds, native grasses, wetlands and pine and aspen groves.
Are there favorite destinations for history, literature, architecture buffs, or antique collectors? What are they?
Breckenridge's rich history is full of gold finds and mining, exploration and adventure, brothels and saloons, booms and busts. Founded in 1859 by a small group of prospectors, the town's Gold Rush brought droves of settlers seeking their fortunes. Though not all found gold, each discovered the beauty of the Tenmile Range and the bounty of the landscape.
Breckenridge was inadvertently left off a U.S. map in the mid-1800s and became known as "Colorado's Kingdom" until the mistake was discovered nearly a half a century later. Today, the community embraces this unique aspect of its past with Kingdom Days, a celebration of Breckenridge's heritage. Those first settlers did more than erect a bustling town; they put their stamp on town history. And, as with Breckenridge townsfolk of today, the early settlers lived lives full of stories worth telling.
Father John Lewis Dyer, an itinerant minister who embraced the mountain life, made his way to Breckenridge in the 1860s. Father Dyer regularly skied across the Continental Divide on 12-foot long wooden skis to deliver the Gospel, sacks of gold and mail to the mining population. In 1880, he founded a Methodist church that remains active today.
 Edwin Carter came to Colorado in search of gold, but when he saw the destruction that mining wreaked on wildlife, he embarked on a career as a naturalist. During his life, Carter assembled more than 3,000 specimens, many of which were used to launch the Denver Museum of Nature and Science. Today, some of those original specimens can be seen at the Carter Museum.
 In 1879, Ford's Chophouse opened – a seemingly small event, unless you consider the owner. Barney Ford became Breck's first black businessman when the Chophouse opened, and he is considered Colorado's first great leader of African American heritage. Highlights of Ford's life story include his escape from slavery, work with the Underground Railroad and foundation of the state's first adult education program.
 On July 23, 1887, the largest piece of gold ever found in Colorado was discovered in Breck. Tom Groves walked into town cradling the 13.5-pound, blanket-wrapped bundle that gained the name "Tom's Baby." Three days later, the nugget was put on a train to Denver and not seen for 85 years. In 1972, the Colorado History Museum examined gold specimens that were deposited in a Denver bank in 1926. Tom's Baby was found, but over five pounds remain missing.
For more stories of Breckenridge's past, visit the Breckenridge Welcome Center and Museum at 203 S. Main St (877-864-0868). Group and self-guided historical walking tours are available. The town also has one of the largest historic districts in the state of Colorado, with more than 200 structures on the National Register of Historic Places. For in-depth historical information, contact the Breckenridge Heritage Alliance at 800-980-1859 or visit www.BreckHeritage.com.
What are some favorite destinations of families traveling during the Fall in Colorado?

Families traveling during fall can explore Breckenridge's outdoors – by ATV, horseback, foot or bicycle – with a backdrop of high mountain peaks and golden fall foliage. Or, pass the wait for snow with shopping, spa treatments and the pursuit of creativity in the Breckenridge Arts District.
What are some helpful resources for discovering local inns, bed and breakfasts, lodges, boutique hotels, and other local lodging and dining?
The Breckenridge Resort Chamber is Breckenridge's official source for visitor information. Visit www.GoBreck.com or call 888-251-2417 for details on what to do, where to stay and all that's happening in Breckenridge, Colo. Connect online via Breckenridge Colorodo Facebook or GoBreck Twitter for the latest news and updates.
Special thanks to Rachel Zerowin of Breckenridge Resort Chamber for answering this interview on Breckenridge, Colorado foliage trips.
Photo Credit: Carl Scofield