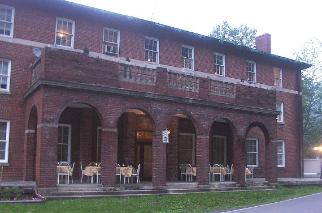 Today we interviewed the Elkhorn Inn  & Theatre of Landgraff, West Virginia.  This historic 1922 inn boasts  train-view guest rooms, a balcony & patio,  great bird-watching, and a prime location. This inn is located on the trout-filled Elkhorn Creek, adjacent to, "some of the best ATV trails in the eastern US." These trails provide spectacular views of West Virginia foliage, which makes this inn a great destination for a fall foliage trip.
Foliage.org: Give our readers a brief history of Elkhorn Inn & Theatre and of your experience as an innkeeper.
Built in 1922 as the "Empire Coal & Coke Company Miner's Clubhouse", and on the "Coal Heritage Trail", Dan & Elisse Clark bought the last surviving historic building in this area in 2002 after floods devastated southern WV, Dan restored it from top to bottom, and we opened our home as the Elkhorn Inn & Theatre in May 2003. Featured on HGTV ("Building Character" and "ReZoned"), the 13 guest room Inn has a balcony, patio, fireplace, gift shop, meeting facility, free WiFi, and satelite television, and offers fine dining by reservation. The Theatre on our property is the only copy of Shakespeare's Globe Theatre in WV, which Dan also restored, and it is available for special summer events, such as fun weddings and music concerts. Chef Dan is US Army Retired, and Elisse is an IDF Veteran and Official Artist for the US Coast Guard with 35 paintings in the national art collection of the USCG. They also work for FEMA as Disaster Assistance Employees, which  is how they met!
What have guests said they most enjoyed about their stay at Elkhorn Inn & Theatre?
Chef Dan's delicious dinners! Other things our guests love include the Inn's art collection (the Inn has been referred to as "the gallery you can sleep in"), the eclectic, antique-filled decor, featuring vintage quilts, carpets, and furniture that we've collected on our travels, and world-class rail fanning, ATVing, and flyfishing right outside our door!



Are there local destinations that are popular for West Virginia fall foliage activities?
The mountains of southern WV are gorgeous when the leaves turn- and stay gorgeous until at least Halloween! THE best way to see them (in our opinion) is on an ATV! We
love to ATV through McDowell County, and take a picnic up to Miracle Mountain… Fall festivals include the "October Sky – Rocket Boys Festival" with Homer Hickam
and the Rocket Boys of book and movie fame in Coalwood, and the Bramwell Oktoberfest; both are just 10 minutes from the Elkorn Inn!
What are other popular Landgraff, WV tourist attractions?
McDowell County, WV boasts THE best ATV trails in the eastern USA, including the famed "Hatfield McCoy Trail System". If you have your own ATV you can ride right
from the inn to 100s of miles of free trails in McDowell County- and it is truly THE best and most fun way to Really see our magnificent mountains! If you don't have
your own ATV, guided half and full-day rides are available from two local companies, and the Inn will help arrange that for guests.
The Elkhorn Inn has been written up in Railfan & Railroad Magazine by historian/author James Porterfield, as "the best legal train-watching location in the USA"! The famed "Pocahontas" line of the NS Railroad goes right past the Inn, and we have railview guest rooms, as well as our railview balcony and patio! "Railfans" from across the USA and overseas come to the Inn to photograph and film the trains, and the Inn hosts "Dinner in the Dining Car" weekends, as well. Elkhorn Creek has been referred to as the best wild trout stream in the east, and ever in the USA as a whole, and it's famous for an abundance of 24″-32″ brown and rainbow trout; the Inn welcomes a lot of "Trout Unlimited" fishermen and women! You can fish right at the inn from the banks, or get in the creek and walk it! We suggest wearing chest waders for fishing in the creek, and encourage "catch and release" fishing, as the creek is truly wild and not stocked!
Other fun things to do in our area include golf (our nearby mountain golf course costs $22 for 9 holes for two people with a cart!), hiking at a nearby state park and forest, summer theatre and fall festivals, and historic sites to visit, including Coalwood (of Rocket Boys/October Sky fame), Bramwell, Welch, War, and the Pocahontas VA Exhibition Coal Mine.

Are there local attractions that guests enjoy for evening entertainment?
Bluefield (30 min. from the Inn) has East River Arts, which has a great "open mic night" on Thursdays; the Ramsey Schoolhouse Club around the corner is The best pub
in the region- they even have The Laphroaig single malt scotch whisky! Bluefield also has "Cowboy Up!" which is a fun place to go dancing!
Name a few highly rated local pubs, diners, or restaurants and what you like about each.
The Elkhorn Inn is in the Great Country Inns of America cookbook, and Chef Dan's gourmet dinners at the Elkhorn Inn have been reviewed on line (www.bedandbreakfast.com, www.iloveinns.com, www.tripadvisor.com, www.innthekitchen.com, etc.), and in a number of newspapers and magazines; he has cooked live on Good Morning West Virignia television, as well. Dinners at the Inn are available by reservation, and a variety of delicious entrees are available, such as Herb-Stuffed Roast Cornish Game Hen, Pork Chop with Brandy-Mustard Mushroom Sauce, Herb-Poached Salmon with Alfredo-Dill Sauce over pasta, Pasta with homemade Tomato Sauce or Pesto, Shrimp Scampi.  A fall "Leaf Peeping" menu often includes Chef Dan's signature Pumpkin-Mango Soup, and Chef Dan also does special Vietnamese, Israeli, and Korean entrees, as well as vegetarian meals and "Dining Car Dinners" from James Porterfield's books "From the Dining Car" and "Dining By rail".
Princeton (40 minutes from the Inn) has Kimono, a great Japanese sushi (and hibachi) restaurant, and Bluefield (30 min from the Inn) boasts Frank's Pizza, which is truly
THE best pizza in the region- Frank & Patty hail from NJ and know how to do pizza right!
Does Elkhorn Inn & Theatre specialize in certain cuisines? List a few guest favorites.
Chef Dan and Elisse have lived abroad for much of their lives, and take cooking classes whenever they travel, and our menu boasts dishes from Israel, Italy, Africa,
Vietnam, and Korea, as well as American specialties.  Guest favorites include Vietnamese "Claypot" Ginger Chicken and Spicy Garlic-Tumeric Marinated Pork Chop, Al Dente Pasta with our homemade Basil or Oregano Pesto, and Chef Dan's signature Vietnamese-Korean influenced Pumpkin Mango Soup.
If your Bed and Breakfast is fully booked, are there other highly regarded B&B?s in the area?
The Elkhorn Inn is the only inspected member of the WV Bed-and-Breakfast Association in McDowell County. We are also, we believe, the only historic "Coal Heritage Trail" property in WV offering lodging and fine dining.
Bluefield (30 min. from the Inn in Mercer County) has the Dian-Lee House bed-and-breakfast, which is also an inspected member of the WV Bed-and-Breakfast
Association.
Do you offer bed and breakfast deals during the fall foliage season?
We haven't raised out rates in years!
Private Bath Guest Rooms (with a double bed) are $120.00/night + tax.
Standard Guest Rooms (with an adjacent bath), have either a double bed, a king bed or two twin beds, and are $99.00/night + tax.
Our "Family Suite" of two connecting guest rooms with an adjacent bath is $195.00/night + tax
We offer a 10% discount on our guest room rates (which include Continental Breakfast) to active duty and retired military personnel and their families. (Not
valid Oct 1-15).
Dinners at the Inn are from $40.00/per person + 15% gratuity & tax.
What is the best way to book a bed and breakfast stay at your B&B?
Call us at 1-800-708-2040 or 304-862-2031.
Reservation requests may be made through our website https://www.elkhorninnwv.com,
and email elisse@elkhorninnwv.com, but we require a valid credit card to confirm a
reservation.
Special thanks to Elisse and Dan Clark from Elk Horn Inn in West Virginia for granting us this informative interview.